We are a Virginia Beach law firm that strives to be among the top civil litigation and commercial real estate firms, not just in Hampton Roads, but anywhere in the country. Our firm was founded by Randy Singer in 2009 with the vision to foster a small-firm atmosphere while maintaining big-firm excellence and aspirations. His leadership brings the unique blending of an experienced lawyer with a local pastor, a helpful combination for those seeking the counsel of a Christian lawyer.
We specialize in complex and high-stakes legal matters. We have extensive experience litigating challenging cases in the fields of personal injury, wrongful death, product liability, medical malpractice, counter-terrorism, white collar criminal defense, and commercial litigation, as well as representing large clients in the midst of pivotal commercial real estate transactions. We also provide estate planning services and consulting for small businesses, churches, and non-profit organizations.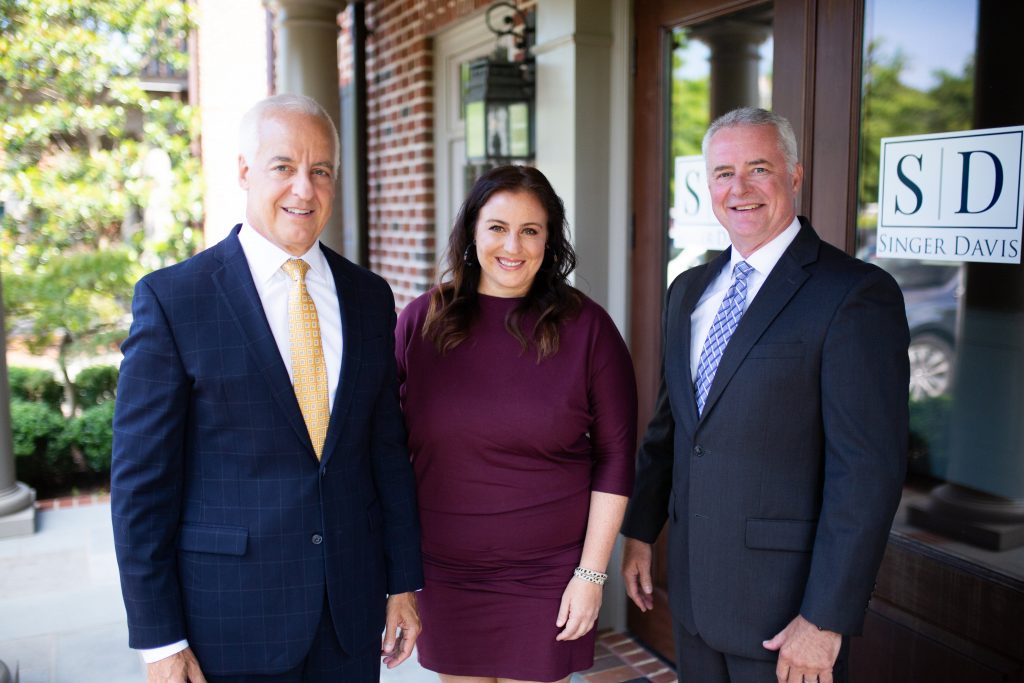 Randy Singer started our firm in 2009 after a legal career that included time as the head of the litigation section at Willcox and Savage, a 60-person firm in Norfolk, Virginia. Randy was looking forward to the challenge of building something great from the ground up. Steve Davis added his name to the firm in 2017 bringing his own extensive experience in commercial real estate. The firm has steadily grown through the additions of attorneys Rosalyn Singer (2012) and Kevin Hoffman (2015).
Given the wide variety of practice areas for the size of our firm, it is crucial that our team draws from a large backdrop of experiences. Randy and Steve lead the way with their history of complex experience. Rosalyn and Kevin add insight into the federal judicial system due to their respective positions as Staff Attorney with the United States Court of Appeals for the Fourth Circuit and Law Clerk with the United States District Court in Norfolk.
A drive for excellence is a core value at Singer Davis. That commitment is evidenced by the fact that each of our attorneys graduated within the top ten percent of their law school classes. Our attorneys bring that same drive to each of the firm's cases and clients. Click here to see some of our recent results. Both Randy and Steve have been listed on Virginia Business Magazine's list of "Legal Elite" and recognized among Virginia "Super Lawyers."
Our role as your:
The firm's primary focus is on litigation. We represent individual plaintiffs in the areas of personal injury and medical malpractice, victims of terrorism, criminal defendants charged with white collar crime offenses, and businesses in the midst of commercial litigation and disputes. We also accept both civil and criminal appeals, having handled cases before the Virginia Supreme Court and the United States Court of Appeals for the Fourth Circuit.
Our transactional practice is highlighted by our commercial real estate matters, representing both landlords and tenants in the drafting and negotiation of retail, office, and commercial/industrial leases as well as representing municipalities and developers in public/private partnerships. Our firm also offers estate planning and business formation services.
"First of all, a truly great lawyer is a wise counselor to all manner of men in the varied crises of their lives when they most need disinterested advice." Arthur T. Vanderbilt, The Five Functions of the Lawyer: Service to Client and the Public, 40 A.B.A.J. 31 (1954). Providing wise counsel is a part of our duty to every client. For some clients, such as small businesses, churches and non-profit ministries, this type of service is the focal point of our relationship.